Janet Yellen on Inflation - in her own words
Is Janet Yellen an Inflation Hawk?
March 21, 2014 -   This week Janet Yellen held her first post FOMC Press Conference, and stock and bond markets dropped sharply when she mentioned that a Fed interest rate hike could come as little as 6 months after the end of the Fed's final "taper".  Investors had not been expecting a move so quickly.
Did Janet misspeak?  Was she misinterpreted?  Is she more concerned about inflation than many believe?
I think the answer is YES to all of the above.
While discussion of what the Fed might do in 2015 is all speculation for now, it is worth noting that there are some early signs that the huge amount of money the Fed has printed in recent years is starting to find its way into the real economy.
Specifically money growth (M1 and M2) and bank lending have both picked up sharply in recent months: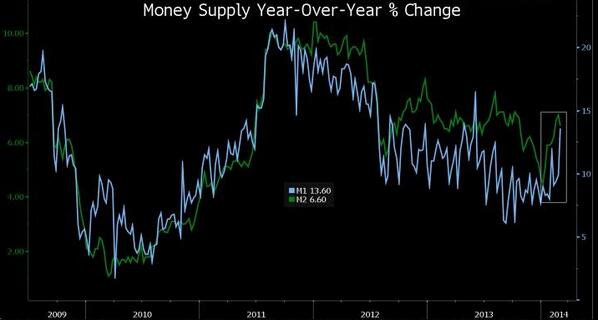 This may be just another "headfake" as we've seen in recent years (see commentary from Milton Ezrati of Lord Abbett here).
Or the Fed - which has been desperately flooring the monetary gas pedal since 2009 - may have finally gotten the economy out of neutral and into "drive".
If that's the case Janet and her Fed colleagues will be on alert for any sudden increase in inflation - which could be made worse by a major drought that has already sent food prices rocketing higher.  And in case you don't think Janet considers herself responsible for controlling inflation, see what she had to tell us - in her own words - during her interview for the film:
Janet Yellen on the Fed and Inflation - an interview outtake from the film: "Money For Nothing: Inside the Federal Reserve" from Liberty Street Films on Vimeo.
She may not be able to control inflation in coming years - but she definitely considers it her job to try.
If I had to bet I'd wager that the economy stays weak, housing continues to soften, and the stock market folds in the next year - but with the Fed still printing $660 billion new dollars per year any sustained uptick in money growth, bank lending and inflation could lead to faster Fed tightening than anyone expects.
Since 2009 investors have been lulled into thinking the Fed will always have their back.  But since World War II every single US recession has been preceded by the Fed raising rates to fight inflation.
My advice?  Don't bet the ranch on this time being different.
-  Jim Bruce - Producer/Director
Continue reading